EarthWalk will Exhibit at ISTELive 23
May 2023

Will we see you in Philadelphia? If so, pre-register to win product giveaways at ISTE Live 23. Raffle items include our all-new eCharge6 charging locker and the eCharger portable charging case. We will be in booth #2667 with products for you to check out and our team will be there to answer any questions.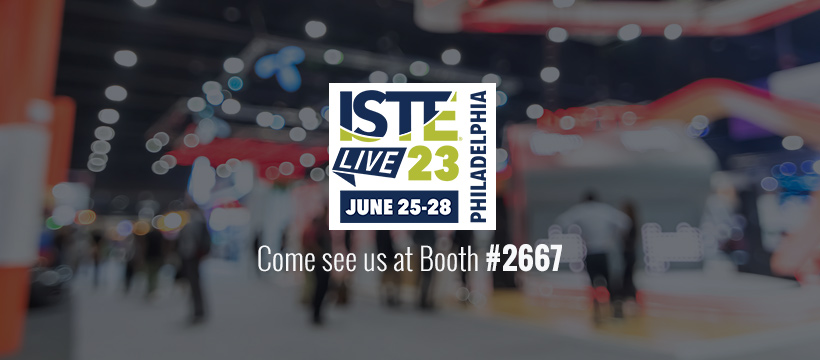 EarthWalk Communications, INC. and UPCYCLE USA Announce Partnership
April 2022
EarthWalk has partnered with UPCYCLE, a full-service resource that effectively and sustainably disposes of end-of-life IT equipment.
Find out more with our full press release.
25 Years of Educational Technology Innovation
March 2021
Since 1996, EarthWalk's mission has been to design and deliver reliable technology tools that help teachers instruct students. Our technology and product lines are always evolving to provide the best possible learning tools and environments for students at a reasonable cost—customized for specific devices, technology needs and budgets. Our customers over the past couple of decades have made us who we are today and are appreciated as we celebrate this milestone.  #EW25th
EarthWalk's New Division Solves Tax Rebate Issues for Schools and Nonprofits
Device Sterilization Made Easy
May 2020

If the COVID-19 (coronavirus) pandemic taught us anything, it was that germs on hard surfaces can be spread to others. EarthWalk is in final development stages of a new way to sterilize classroom devices quickly and efficiently, adapting products we already produce. How? CleanZone.
Ozone Disinfection
Ozone kills viruses and bacteria 50 times more effectively—and 3,000 times faster—as compared to chlorine, and with no poisonous residue.
Ozone is a powerful weapon to combat germs and viruses such as COVID-19, other flu's and even the common cold, utilizing full coverage in an environment more efficiently and safely than with UV technology.
Decontamination is quick: The ozone generator is activated for a 30-minute cycle.
Can be configured as standalone sanitizing stations or incorporated with pre-wired charging systems.
Find out more details with our Ozone for Decontamination resources, by contacting a sales rep or giving us a call.
Keeping You Informed: EarthWalk Operations
March 2020
COVID-19 (coronavirus) is having a dramatic impact on our lives and normal routines. At EarthWalk, our focus is on the health and safety of our employees, customers, and our partners.
We are carefully responding to this situation daily to ensure the safety and well-being of our staff as well as order fulfillment and service for you, our customers, are being met as prudently as possible. Most of our employees are self-quarantined and able to connect via home offices.
As news of the coronavirus continues, we want to reassure you that EarthWalk and our team are available should you need us. If you have any questions or concerns, please don't hesitate to reach out to us directly.
We wish you, your families, and your communities the best. Stay diligent and healthy!
~ EarthWalk Management Team ~
After 20+ years providing technology tools to schools, EarthWalk recognizes the increasing energy consumption and demands of electricity as digital devices and peripheral equipment use is more widespread in education. After much research and many revisions to our initial plans, we are excited to announce the development of a new product division: SolarWalk.
SolarWalk is a clean, reliable, renewable technology that generates electricity via solar panels mounted onto durable, lightweight carport structures. We have aligned ourselves with experts in the solar power field and offer a turn-key solar developer solution to save you millions of dollars in energy costs. Plus, there is NO COST to you and we take care of everything.
May 2017
Underwriters Laboratories (UL) is a nonprofit organization dedicated to public safety. According to their website: "UL is a world leader in product safety testing and certification. For more than 100 years, manufacturers have had their merchandise evaluated and tested for safety risks by an independent, third-party safety certification organization." In April, EarthWalk received notification that our MiniMax line of computer carts had been evaluated by UL and meets applicable safety standards.
We have submitted information to UL for additional products to be reviewed.
We've Come so Far in the Past 20 Years!
EarthWalk is proud of the accomplishments we've made over he past two decades, providing educators and students the tools they need to succeed. We couldn't have gotten to this benchmark anniversary without people like you! 
Thank you!
Relevance of Technology in 21st Century Classrooms
Benefits of EarthWalk's High-Efficiency Charging
ChromeCart Series of fixed and mobile solutions specifically geared towards Chromebooks. Storage for 16-45 devices, with some models having a shelf and optional storage bins. This series can also accommodate most Ultrabooks, Netbooks and Tablet devices.

We Can Help Address Your Technology & Budget Needs
Contact an EarthWalk Solutions Specialist to see how!