C.O.W.s for Kids
Computers on wheels in classrooms
Computers on Wheels…or C.O.W.s, as many school children have named them, are mobile computer carts. EarthWalk patented the technology for secure, mobile charging carts to provide students access to devices in any classroom. In the past 25+ years we have also designed solutions for efficient battery power and most recently developed an effective way to sanitize classroom devices using ozone inside our carts and stations.
Our commitment to provide evolving classroom technology solutions is forefront in our mission to develop, build and deliver the tools teachers need to instruct students.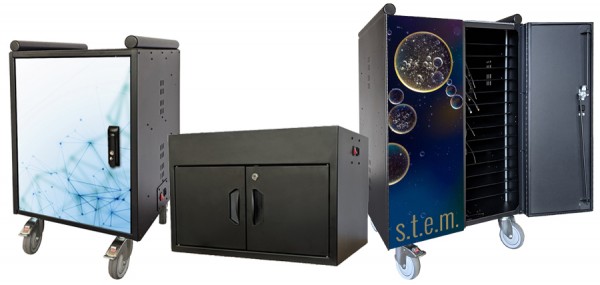 Explore our carts and workstations for schools and find out how you can find a solution that fits your budget and technology needs.
We've got charging carts, stations, pre-wired charging options and device decontamination solutions that can get you the tools needed to fit your budget and technology needs. We also have high-powered mobile charging solutions—perfect to power up dead devices students bring to class or to have uninterrupted standardized testing.
Sponsors can create any type of graphic to appear on carts. Or contact EarthWalk and have our design team create something for you. Either way, your brand is highly visible.
Branded C.O.W.s: Business Sponsorship Program for Education Technology
EarthWalk is rounding up corporate sponsors to help our schools fund desperately needed technology: increasing students' access to computers. Businesses also get a unique opportunity to grow brand recognition and market share. If you're a business that wants to give back to the community, you can position your brand as well as fund technology in K-12.
EarthWalk pioneered the C.O.W.s for Kids program to solve challenges schools were facing—bringing computers into overcrowded classrooms with very limited power access and diminishing budgets. The solution: deploying branded C.O.W.s.
C.O.W.s for Kids is a socially responsible advertising campaign providing a footprint that reaches thousands of students, parents, and educators in the K-12 as well as the higher education demographic. Our workforce of tomorrow needs to be skilled in technology today. The more they are exposed to IT, the more their skill sets expand—and your corporate impression will follow these future consumers throughout their formidable school years and beyond.
Sponsors' brands (i.e.: ads) are printed on the same durable vinyl "skins" you see on commercial vehicles, then placed on new computer carts in classrooms. These carts are configured to secure and charge new as well as existing devices.
This sponsorship program is flexible and designed to fit any advertising budget. You can sponsor one C.O.W. or several…your generous contribution, large or small, will ensure that schools  in need have access to technology and carry your inspiring message for years to come.
How Does my Company Benefit?
By sponsoring a C.O.W. through customized branding your organization will realize the following benefits:
Your brand and corporate message will reach new and future consumers for years to come
Positive exposure and support of the general public
Exposure in a new marketing arena
Cost-effective, long-term advertising
Potential for strategic public relations event for your C.O.W. donation
Achievement of corporate social responsibility goals
Helping children access the tools necessary to compete in the global economy
We invite your company to be a part of our Technology Sponsorship Campaign. Together we can help supply students and teachers with the tools to succeed.
For customized cart art for your schools, visit our Cart Art page. Add your school logo, a specific subject or any other colorful imagery to make your carts stand out. Choose to customize the entire cart or just one or two doors.
We Can Help Address Your Technology & Budget Needs
Contact an EarthWalk Solutions Specialist to see how!